28 tph 16 bar coal fired steam boiler
2019-08-05 17:40:57
  28 tph 16 bar coal fired steam boiler parameters
  Model: SZL series biomass/coal boiler, DHL series corner tube boiler, CFB coal fired steam boiler
  Rated steam capacity: 28 ton/hr
  Rated steam pressure: 16 bar(1.6 MPa)
  Rated steam temperature: 204℃
  Feedwater temperature: 104℃
  Application: food factory, paper mill, power plant, CHP, central heating, textile industry, chemical commpany, etc.
  Fuel: coal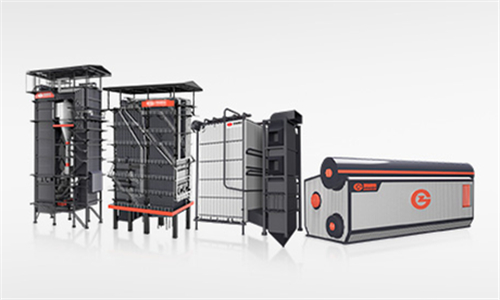 28 tph SZL series coal fired steam boiler is water tube boiler and is produced as a packaged unit. The boiler is entirely built, assembled and tested in the factory before being shipped, thereby reducing the overall costs. The SZL series chain grate boiler is equipped with blowers, induced draft fan, gearbox grate, coal, slag, economizer, air preheater, ESP, electric control system, to auxiliary equipment such as pumps, water treatment, deaerator and valve instrument.
  28 tph 16 bar DHL series coal fired steam boiler body is compact in structure, and the membrane water wall is completely sealed around the boiler and the middle partition wall. The membrane water wall is manufactured by a dedicated membrane wall production line. DHL series corner tube chain grate boiler has such characteristics as safe water circulation, efficient combustion rate and low pollutant emission. The boiler could adopts combustion of fault coal and biomass such as straw, palm shell, etc.
  28 tph 16 bar coal cfb steam boiler is low pressure industrial boiler, which is widely used in various manufacturing industries, such as food plants, chemical plants, tire factories, paper mills, etc. The circulating fluidized bed boiler has the three advantages: wide fuel adaptability, excellent environmental performance and wide load adjustment range. It is recognized as the best commercialized clean coal combustion technology in the world.
  When customers need 28 tph 16 bar coal fired steam boiler, ZBG are available in a variety of models. We can provide customers with the best solution according to customer needs, such as site size, cost investment, fuel, etc.